By now, we're all used to getting spam mail. It's annoying and repetitive, especially when it's clearly "junk". Unfortunately, it's only going to get worse because no matter how good spam filters get, spam mail evolves to get past them. That's why it's important to be able to spot the difference between spam and legitimate mail.
The first thing you should look out for is any indication or message from your email provider's spam filter. Gmail has a great filter that automatically flags things or gives you a small notification if it thinks something is fishy. For example:


This email wasn't spam, just a sales email from a site I made an account with. But Gmail used the small red lock with a slash to notify me that this email wasn't encrypted by the sender. If you're unsure if an email is spam or not, looking to see if the email is encrypted or not is a good start. If this email wasn't from a company I used I would immediately mark it as spam. As a rule of thumb, you should never share personal information in an email, but be especially wary of sharing anything when the email is unencrypted.
Also, note the mailed-by and signed-by sections:


This is the best way to authenticate the sender because as you can see, the email was both mailed by and signed by Sweetwater.com, which tells me that this email was definitely sent by the company that appeared to send it. But if you get an email from your bank for example and it is neither mailed or signed by the bank, then it is spam!
Some spam emails are poorly constructed and often make no sense whatsoever and are the easiest to spot. Recently my spam filter caught one that makes a great example: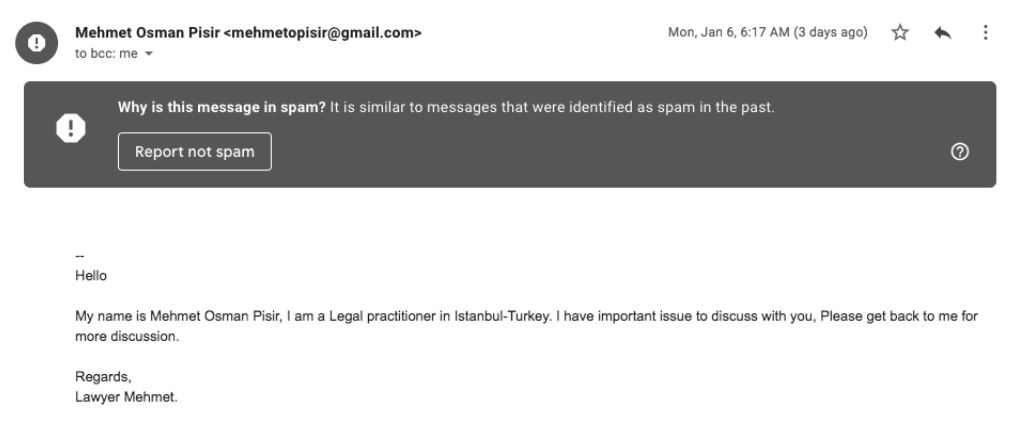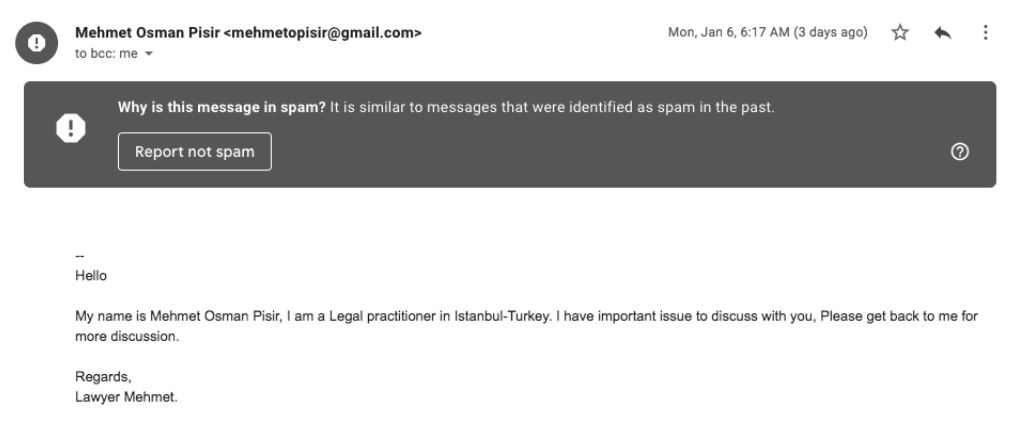 There is no reason whatsoever that a "legal practitioner" in Instabul would need to contact me. The email offers no further information and the greeting and signature both feel out of the ordinary as a legitimate sender/company would use my name in the greeting and wouldn't refer to themselves as "Lawyer ___".
So do your research and make sure that you're able to protect yourself from harmful spam mail for your safety and your sanity.